Actuator Repair for Motor Failure
Electric industrial valve actuators utilize motors as the power source to move the valve position. If you experience electric actuator failure or malfunction, our team is here to provide the actuator repair services you need to restore functionality to your control valves.
One issue that may occur with electric actuators is motor failure. In these cases, the motor stops working and therefore can't provide energy for the actuator to open or close the valve. Our specialists offer detailed actuator troubleshooting and repair services to return your actuator to working order.
Motor failure for actuators is pretty rare if you have selected the right type of actuator and the right type of motor for your application. Therefore, if motor failure is the cause of actuation malfunction, our technicians will verify that the duty cycle and insulation class are sufficient for your application.
In addition, environmental conditions can also lead to actuator motor failure. For instance, excessive dust and moisture can infiltrate the motor interior and cause failure. In these instances, you may need to choose a different motor or type of actuator for your application, such as pneumatic or hydraulic. As part of our actuator repair services, if we believe your facility may need a different motor or actuator type, we will discuss the various options for your industrial valves.
For expert actuator repair, contact our team for immediate assistance.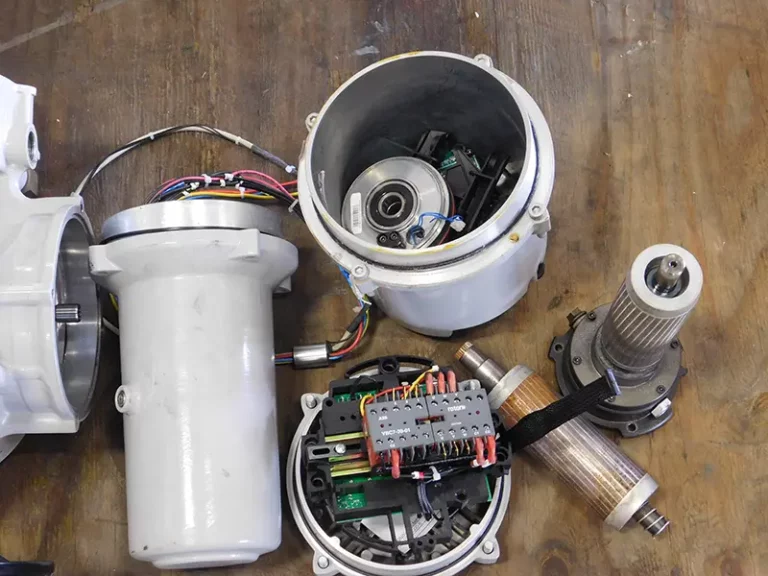 Severe Service Actuator Repair for the Motor Contactor
The motor contactor is an internal actuator component that tells the actuator whether to open or close the valve based on received signals. It is an essential part in the industrial valve actuator for process control.
Motor contactors are quite durable and can withstand many severe service applications. However, there are several reasons why you may need actuator repair services for a failed or malfunctioning motor contactor.
Perhaps the most frequent issue is due to contamination from dust and moisture. This can cause electrical shorts and corrosion to sensitive electrical components in the contactor. In addition, excessive vibration and extreme heat can also cause the motor contactor to fail, leading to malfunctioning actuators for your valves.
In these cases, actuator repair may involve simply replacing the motor contactor with a new unit. Our team determines the root cause of failure before providing actuator repairs to ensure we correct the issue for longevity and durability. This may include replacing with more durable contactors to ensure continued service life suited for your application.
Our technicians at Southern Actuation Service are dedicated to providing actuator repairs that reduce total cost of ownership and minimize downtime for your facility. We offer decades of experience and a proven track record for your actuator repair needs.
Contact us now to request actuator service.