Our experts service all types of industrial valve actuators. We can help you select, maintain, and repair valve actuators for your severe service applications.
There are several different types of actuators. The one that is right for your process control needs depends on a variety of factors, including the types of industrial valve you use, available power sources, and the amount of space you have in your facility.
There are two main types of valve actuation: linear and rotary. Linear uses pistons to create straight line motion to open and close valves. These are best for linear action valves, such as globe, gate, and pinch valves.
Rotary valve actuators use twisting motion to open and close valves. The two most common options are rack and pinion actuators and scotch yoke actuators. Rotary actuators are best used for industrial valves that require turning mechanisms to open and close, such as ball valves and butterfly valves.
Industrial valve actuators are also categorized by their power source. Types of valve actuators include:
Pneumatic: Pneumatic valve actuators use pressurized air that moves through solenoid valves to automate valve actuation. They are low maintenance and space saving, but also create less force than many other options. In addition, air pressure may be lost or contaminated over time.
Hydraulic: Hydraulic valve actuators work similarly to pneumatic actuators, but use hydraulic fluid to open and close valves, rather than air. These can create much more force, including over long distances. However, fluids can leak and these systems tend to be complex and require a lot of space in the facility.
Electric: Electric industrial valve actuators are some of the most precise actuators available, using an electric motor to initiate actuation. However, they tend to cost more and motors may experience wear and tear over time.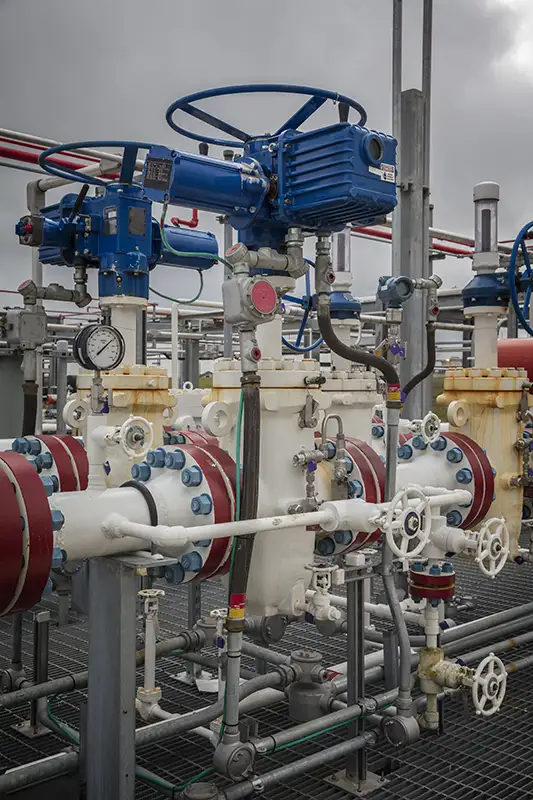 Our experts at Southern Actuation Service provide maintenance and repairs for all combinations of valves and actuators. You can trust our team to provide superior quality actuator repair services and maintenance for any type of actuator and industrial valve.
Industrial Valve Actuator Repair for All Actuator Types
As industrial actuator experts, our team provides actuator repair services for all types of actuators. We work with all valve and actuator pairings to ensure your actuators are reliable and in perfect working order.
We provide both in-shop and field industrial valve actuator repairs solutions to suit your needs. Our specialists are here to restore valve actuators to peak condition whether you need repairs during a planned shutdown or need emergency repairs for unplanned issues.
Choose our team for 24/7 response to all your actuator repair needs to minimize downtime, reduce costs, and increase safety for malfunctioning actuators.
Actuator Maintenance Services for All Types of Actuation
We also provide actuator maintenance services to help you optimize total cost of ownership and reduce unexpected repairs and downtime for your processes.
Our team can help design a comprehensive maintenance plan for all your industrial valve actuator assets based on our decades of experience and our technologically advanced processes.
Our maintenance services include regular inspections, testing, and planned replacements for parts commonly exposed to wear and tear. Our actuator maintenance services are designed to identify issues before they cause malfunctions and failures to increase the service life of actuators for your application.
Contact us now to request repairs or maintenance for your actuators.