What are Boiler Blowdown Valves?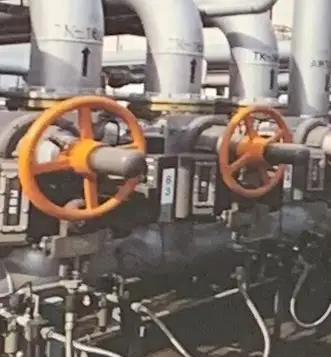 Our actuation specialists provide actuator services for all types of industrial valves, including boiler blowdown valves. Choose our team to help with actuator repair, startup, and maintenance  for your automatic blowdown valve needs.
Boiler blowdown valves help keep industrial boilers clean, efficient, and safe. These valves help remove impurities, scale, and particles from the boiler. This helps prevent uneven heating and metal stress for the boiler.
Blowdown valves often use actuators to automate the blowdown process. This removes the need for manual control of the valve to help reduce labor requirements and the potential for human error. This helps optimize the blowdown rate by automating when the valves open and close.
Industrial blowdown valves help flush out sludge and buildup that can damage high pressure boilers. Therefore, it's essential to have reliable valve and actuator solutions for your industrial boilers. Our team offers decades of experience to help service your industrial valve actuators for boilers to prevent negative issues due to sludge.
Contact us now to request service for your blowdown valve actuators.
Industrial Actuators for Boiler Blowdown Valves
Every application requires different actuators to help control valves. Our experts are standing by to assist you with finding the right actuators and getting actuator service needed for safe, reliable, automatic boiler blowdown valves.
In boiler blowdown applications, some of the most common types of industrial valves used are globe valves. However, they can also be other types of valves, including ball and butterfly valves.
There are also a wide range of actuators you can use for industrial boiler blowdown valves. For instance, pneumatic actuators are some of the most commonly used industrial valve actuators for boiler blowdown, as they are relatively inexpensive and most facilities with boilers have easy access to pressurized air on-site.
Hydraulic actuators are another option, which work in a similar fashion to pneumatic actuators. However, instead of using air to move the valve position, these actuators use hydraulic fluid. They offer higher power outputs and faster opening and closing. They also require more space and maintenance and come with higher operating costs, making them somewhat less popular for industrial boiler valves.
Electric actuators use an electric motor to control the valve. They are typically more precise and often require less maintenance than hydraulic actuators. However, they do need plenty of space for the motor and require easy access to electrical power to work.
Our professionals at Southern Actuation Service provide services for all types and brands of actuators, so whether you need pneumatic or electric for your industrial boiler blowdown valves, we have solutions for you.
Reach out now for actuator maintenance services, repairs, or setup.