Industrial Valves with Actuators
There are many industrial processes that can benefit from valve actuators. Valves are necessary for isolating, controlling, and throttling the flow of many types of liquids and gasses. Actuators give facilities the ability to quickly and easily control industrial valves of all types.
We work with actuators and valves of all pairings. Our team supplies, maintains, and repairs electric, hydraulic, and pneumatic actuators for industrial valves.
We provide a wide range of services for industrial valve actuators, including:
Valve automation through actuators
Startup assistance
Preventative actuator maintenance services
Turnkey remanufacturing
Using actuators for your industrial process valves has many advantages. It can reduce labor requirements and costs because actuators can open or close valves on command or automatically based on inputs. This can also help increase production for your processes.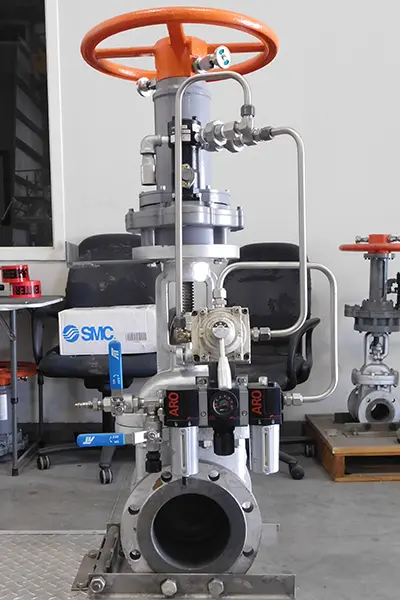 In addition, actuators help reduce losses from human error, which can frequently lead to unexpected downtime, product losses, as well as potential safety hazards.
Due to these important benefits of using actuators, many facilities use actuators for a wide range of industrial valves, including:
Choose Southern Actuation Service for Your Industrial Valve Actuator Needs
Our experts at Southern Actuation Service are here to help improve your processes by minimizing downtime, reducing losses, and optimizing total costs of ownership for your industrial valves and actuators.
We offer automation services by supplying and installing actuators on industrial valves for all types of severe service applications. We regularly work with the oil and gas, pulp and paper, chemical production, and power generation industries to solve their valve automation requirements.
We also offer quick, top quality actuator repair services for malfunctioning valves and actuators. Our team works to identify the root cause of failure and repair it as soon as possible to restore valve and actuator functionality.
You can rely on our team to provide you with the actuation services you need for safety, cost-savings, and success.
Contact our team today to get solutions for your industrial valve actuator needs.